Amazon Grocery catapulted to the top of America's favourites list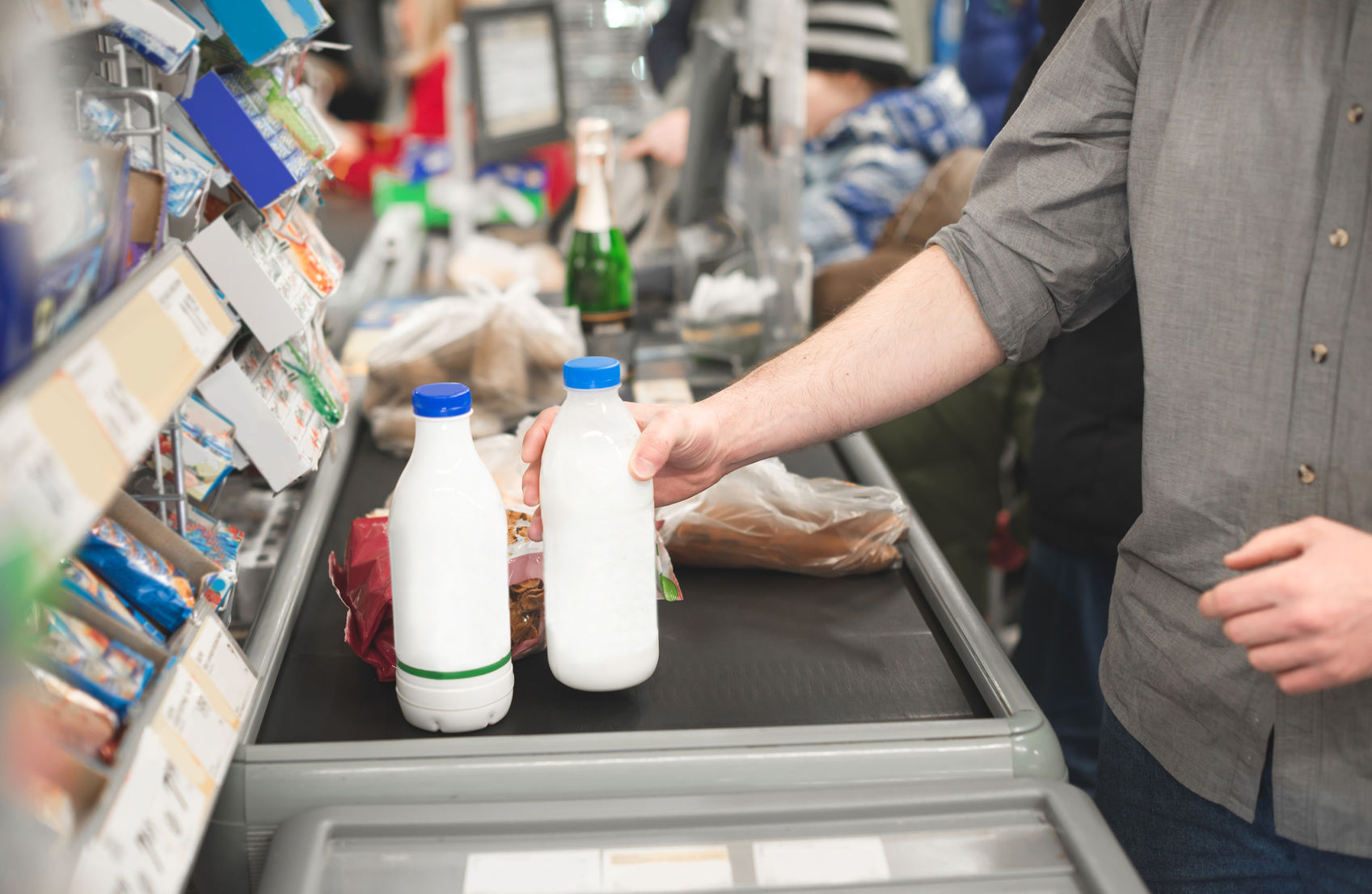 While brands such as Trader Joe's and H-E-B Grocery Stores, long acclaimed for their authenticity, were at the top of consulting firm dunnhumby's Retail Preference Index (RPI) in the grocery category, the 2021 results revealed some surprising news: Amazon Grocery now occupies the first place in the ranking.
Trader Joe's and H-E-B Grocery Stores, traditionally in the lead 
Up till now, Trader Joe's and H-E-B Grocery Stores (with 350 stores in Texas) have been at the top of dunnhumby's Retail Preference Index (RPI) in the grocery category*. 
But there's been a big change in 2021, with the arrival of Amazon Grocery shooting to the top of the list. This is news with strong symbolism, given that the brands usually at the top of the podium are characterised by their authenticity and their willingness to remain true to their DNA – with a few digital exceptions and drop-off delivery. Brands which, like H-E-B Grocery Stores, have an emotional closeness to their customers. (It should be noted that this Barometer measures more the Affinity aspect of the relationship and the preference of the brand by its customers than its pure performance, like the Shopper Value Index Altavia Shoppermind, in France). 
This year, the ranking has been upset and Amazon Grocery is now in first placeamong all the Grocery Storespreferred by Americans. 
The time has come when one of the historic organic brands, as iconic as Trader Joe's, created in 1958, has no choice but to modernise and adapt to a new social paradigm. 
Pandemic-driven change: an RPI in full swing towards service vs price and quality.
Classically, RPI is based on basic values, namely the two pillars of price and quality, which account for more than 50% of preference. Logically, as shown in the table below, and during this very special year, Americans – like all customers in 2020, including in France – have favoured accessible (in terms of delivery/in-shop or kerbside pick-up) and responsive brands. The historical criteria have thus been largely outstripped by those of speed of services and promotions.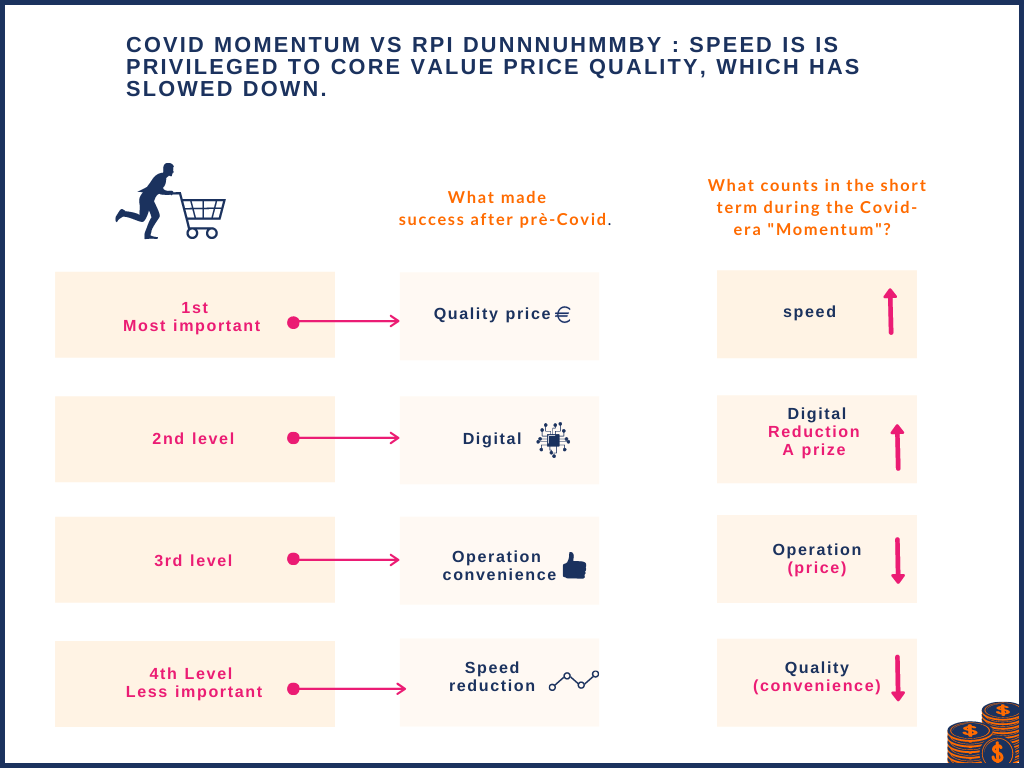 Amazon has been propelled in the minds of Americans as the tool for service excellence, thanks to new store openings in 2020, which the giant has talked a lot about, but also to its Just Walk Out Shopping technology and its Fresh Grocery and Go Grocery formats. This point nevertheless goes beyond the size of its network (30 Go and Grocery shops) and the quality of the experience with certain formats such as Go (permanent shortages, lack of persistence etc.).
Buying is not shopping!
However, the fact is that the Americans have gone into survival mode to procure supplies (see the excellent talk on The Great Compression by Mitch Joel NRF 2021). 
If Amazon's first place among their favourite grocery stores was somewhat overlooked in the face of the wealth of information and emotions broadcast during NRF 2021, it has to be said that the pandemic has surely shaken up habits. Customers buy products more than they shop for them, thus favouring convenience and speed. 
Lisa Goller, a member of BrainTrust and a content marketing strategist, summed up the disruption perfectly. "H-E-B and Trader Joe's are great brands, but Amazon's unparalleled convenience is addictive (…). dunnhumby's statistics prove that consumers are looking for fast home delivery – a trend that will survive the pandemic. Even when life gets going again, Just Walk Out technology at Amazon Go and their competitors' shops will set new standards for convenience, ease and time savings. I also expect Whole Foods and Amazon Fresh to continue to expand nationally when the time is right. Amazon is hungry to win, and its grocery shopping party is only getting started".
It remains to be seen whether this trend will become sustainable and at what level. Nothing can truly be frozen in time, as we can see from the very particular period we are living through. See you at the next NRF !
*dunnhumby's RPI is based on seven criteria: The price, the quality, the products (freshness, assortment etc.) and the quality of the products, private label store experience), digital (convenience), operations (quality of execution, breakdowns), practicality (ease of shopping in store location), speed (of purchase and in-store), and promotions and information.
Sources: https://www.forbes.com/sites/retailwire/2021/01/25/why-amazon-grocery-catapulted-to-the-top-of-americas-favorites-list/?sh=26fda63e203e
Jean-Marc Mégnin, Managing Director of Altavia Shoppermind